Two very different designs for Black Elk Studios electronic music label digital releases
Black Elk Studios Music Label is an innovative sound lab producing experimental electronic music ranging from intelligent techno, minimal and dub styles. Our team has designed two album covers for different releases using photo art, vector graphics and retouching.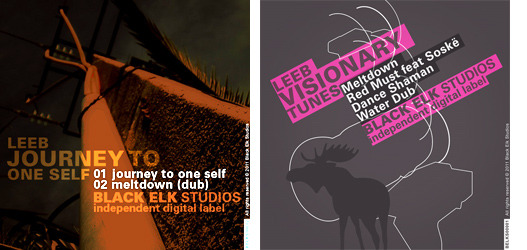 "Visionary Tunes" album design
Album cover for Visionary Tunes EP digital release has been designed using vector art with a smooth background. Final design has been enhanced using various retouching techniques to achieve depth and unique textures.
Designing cover for "Journey to Oneself EP"
We wanted to use something different designing this release so it would stand out. Background photo was actually extracted from Black Elk Studios video footage and retouched for enigmatic look to correspond with album title and music content.
Listen to Black Elk Studios
Below are a few links for those who want to know more Black Elk Studios releases:
Post a comment
Here you can share your thoughts with us by posting a question/comment. Your e-mail will not be shown to protect your privacy. Required fields are marked with *