Smooth Step CMS
Smooth Step CMS™ is a fully web based AJAX software meaning that no additional installations besides a web browser (Internet Explorer, FireFox or similar) is needed. This gives a great flexibility because our CMS software can be accessed from any computer that has an internet connection.
Smooth Step CMS solution is installed for each new website we build. Your existing site can also be reprogrammed to become editable with our content manager.
We have been developing this web based software and it's plugins since 2007.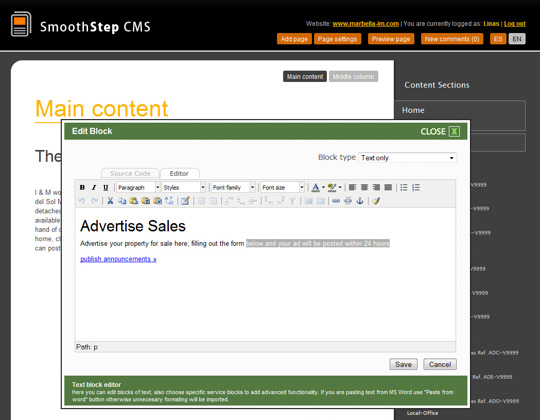 What does it do
Smooth Step Content Management System provides restricted area on your site where you can edit web pages.
Basic installation:
Secured login - Allows protected access to Smooth Step CMS.
Text functions - You'll be able to edit and format text, apply styles, create links, paste your content from MS Word.
Page functions - Allows create new pages, move them from one section to another in the menu, write SEO friendly titles and descriptions.
Image functions - Allows to upload and resize photos (also sharpen). Once uploaded they can be placed anywhere in the content.
Contact form - Enquiry form with validation where clients will be able to contact you. Contact form is available as a special block in Smooth Step CMS and can be inserted anywhere on any page.
Extra plugins:
Compatible web browsers
Smooth Step team dedicated large amount of time to make CMS fully compatible with major web browsers: Internet Explorer (version 6, 7 and 8), Mozilla Firefox, Safari and Google Chrome.
Easy to use
Usually it takes less than 1 hour of studying to get the basic concepts of how to edit your web site using our content manager. We provide lesions, manuals and support.
Smooth Step CMS technology is designed to have vast amount of pages - Suitable for individuals and large business websites.
Request Smooth Step CMS
If you have a website or you are planning to build one and thinking about Smooth Step CMS, simply fill our contact form and we will provide available options and pricing.