Real estate property management software
Working for real estate companies in Marbella, Costa del Sol we have developed content management system extension to manage properties and generate property listings according to our unique designs.
Our real estate software is very easy to use due to advanced automation.
No recurring

fees

Unlike old fashioned real estate software providers we don't ask for monthly fees for our software. You will need to pay for website construction and web hosting that costs around 150eur/year and add as many properties as you wish.

The amount of money you need to pay for your real estate software a year is enough to build a new SEO friendly website based on our CMS with no recurring fees.

Unique

website design

Many real estate software providers and real estate designers in general use prebuilt templates to make sites for their clients. This way they cut designer costs, however they charge as if design would be unique.

We prepare unique design for each site we build as we care about quality. We don't simply build sites to get paid – Web design work has to be rewarding.

Quality

photo resizing

Our real estate property management software comes with server based photo resizer. You will be able to upload photos of any size and they will be resized to fit property listings design and slideshow.

Property photo resizing is made in highest quality using bicubic and lanczos algorithms used by professional photographers.

In Smooth Step real estate software photo resizing is integrated all services where photos are used. For example window card PDF generator needs photos of certain sizes, property listings and details of other sizes etc. Our web server resizes photos on the fly when they are needed. All you need is to upload quality pictures (around 1000 pixels of width) and forget about the rest.

SEO friendly

property listings

Search engine marketing is vital for real estate websites. We have been working for InfoCasa based in Marbella developing their SEO friendly property listings. However due to their real estate software limitations we were able to build only partially search engine friendly listings.

Since our real estate software is based on CMS we are able to provide property listings that are fully search engine compatible. You will be able to choose unique non numeric web URL, META title and description for each property and listings per area and/or property type. This gives great advantage over your competitors since their property pages URLs and titles are generated automatically and search engines are not too fond of that.

Upgrading existing

real estate sites

If you already have real estate website we can automatically import all the properties and photos to content management system so you won't have to add each property manually. This can be very helpful if you have hundreds of properties. However if you will want you website to be fully compatible with SEO you will have to write unique title and description for each property.

We also upgrade existing website design. If you like the design of your old site we can keep it the idea and simply redesign it to look better.

Window cards for

quality printing

Smooth Step real estate software comes equipped with high quality PDF generator that takes property photos, description and features and adds them to PDF template we will design.

PDF window card service is optional, if you'll decide that you need it we will design a unique vector based template with your company logo and window card will be automatically generated for each property that you are going to add.

Window card service appears as a button on property details page, anyone will be able to click on it and save PDF with property details.
Test our property management software
Property details with PDF window card and photo slideshow we built for an investment company in Marbella.
How does it work?
In Smooth Step CMS with real estate software extension you will be able to add special property pages. These pages will appear with tabs to add property description, photos and features.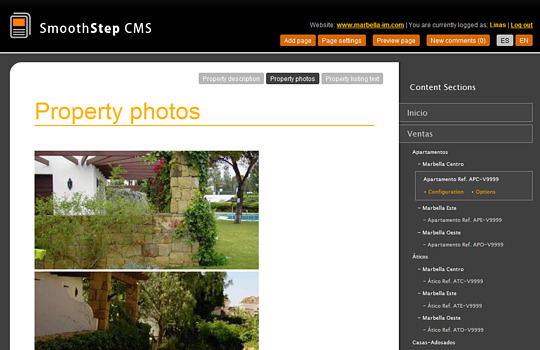 Our real estate software is designed to be user friendly, even users with little knowledge about computers will be able to add properties without difficulty.
Smooth Step CMS and property listings on your site are designed to handle thousands of daily visitors. The software works fast due to new dedicated servers and caching engine we have implemented.