Web design portfolio
We offer corporate web design that integrates all the necessary elements to transmit corporate brand, products and services. Here you will find a selection of latest websites we haved designed and developed.
View slideshow portfolio

Design gallery in 3D
Large real estate website project built for Unique Mallorca agency on our Real Estate software and Wordpress. The site is optimized for SEO and high performance. It handles over 3000 properties in 3 languages that are daily updated from their internal real estate manager using our XML feed importer.
Design and development works took quite a few months. In this project we have implemented our latest innovations in both server programming and visual interface.
Website offers free registration that unlock personal real estate shortlist, online chat support, dynamic visitor graphs for each property, PDF windowcard integration, AJAX based contact form validation, visitor graphs, chat and shortlist management.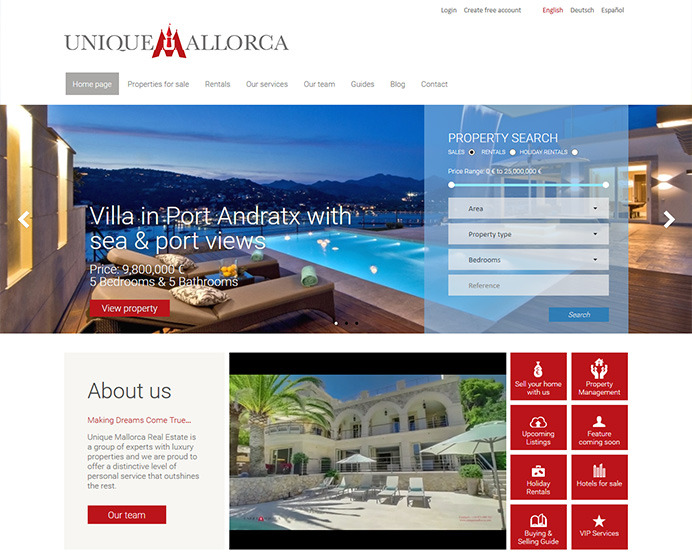 BlueView real estate website is based on Wordpress content manager and our new Real Estate Management Plugin with cutting edge web technology that allows listing properties in a quick and easy way.
Website comes with slideshows for featured properties, also full screen photo preview on each property page designed to readjust itself according to screen size, as well as an innovative property search with range selector feature that allows visual selection of price range without the need of entering the numbers manually. Search results appear with a horizontal version of the property search above the listings for a quick readjustment.

Real estate management plugin has many modern features designed to ease the administration. Photo manager allows choosing a selection of photos and uploading them all in one go, the uploaded photos can then be rearranged visually by dragging their thumbnails to the desired location. The photos can be uploaded in any sizes, the system will resize them to the required sizes for use on the website. Property features can be added on the fly or quickly selected from the features used on other properties.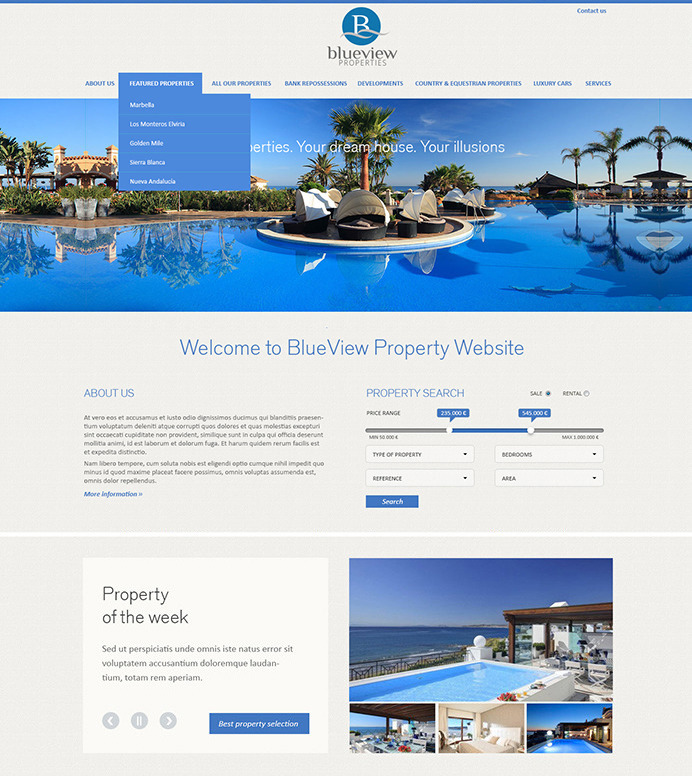 The software is loaded on top of their main website using different dynamic windows for each panel. Each window has been designed by our team so they would look integrated with corporate BunnikTours company style.
Based on JSON JavaScript approach the software is loaded from our dedicated server. This allows cost efficient development since the client doesn't have to buy the software engine itself.
The web application is equipped with several smart panels that load dynamically. Secure login panel with SHA password encryption, lost password recovery panel, user management panel are designed to handle user accounts. Profile panel allows users to enter their contact details also upload logo in high resolution for PDF rendering. File panel generates PDF preview photos (thumbnails) for each uploaded document and provides access to dynamic PDF generator capable of rendering BunnikTours brochures with user details in real time, also sending them by email directly from the software.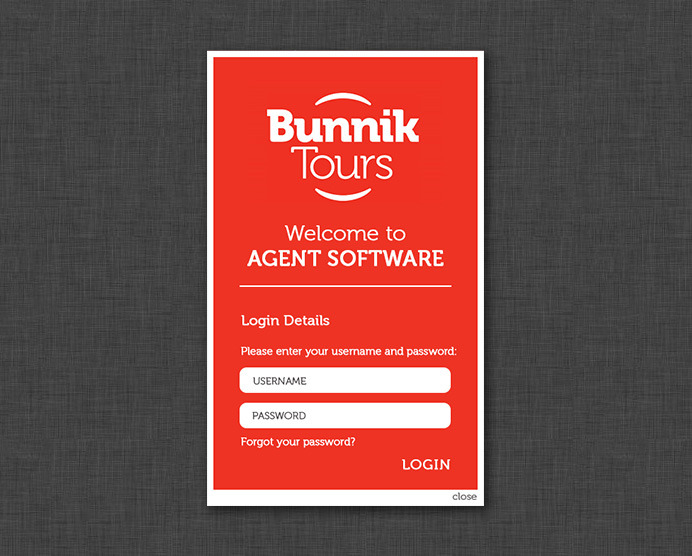 We have designed and developed new Aloha College website based on Wordpress content manager with our custom plugins. The content has been reorganized; now the home page shows college curriculum, cultural and sport events available at this international college located in Marbella.
We have produced a clean and fresh design implementing various innovative techniques to ease site navigation providing dynamism.
The site contains detailed information about scholar levels, events calendar, news, parent section, available jobs, activities, college installations and presentation videos generating over 3000 unique pages for the search engines.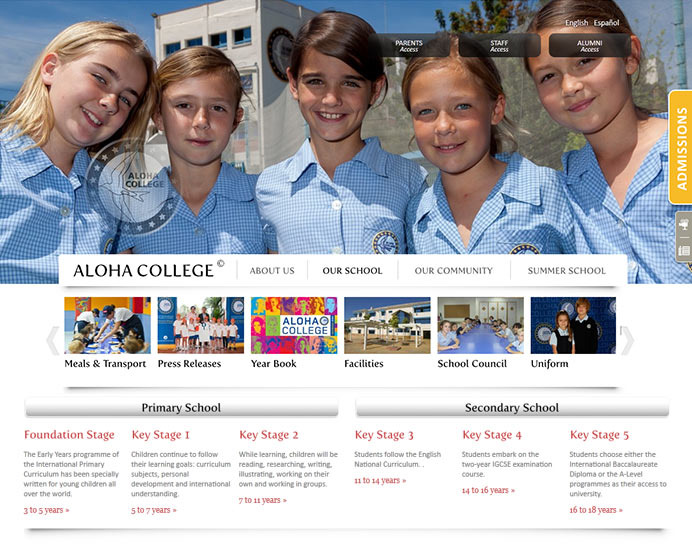 We have developed a corporate website for Rima Consulting real estate agency with offices in Marbella.
Website features our modern design using clean non standard fonts, special effects and animations. The structure of the web has an horizontal disposure to promote all services and properties offered by the agency.
The site has been built using our SmoothStep content manager system with property management plugin allowing easy property and content administration. Website has an integrated property search system, two different navigation menus, dynamic photo previews, slideshows and much more.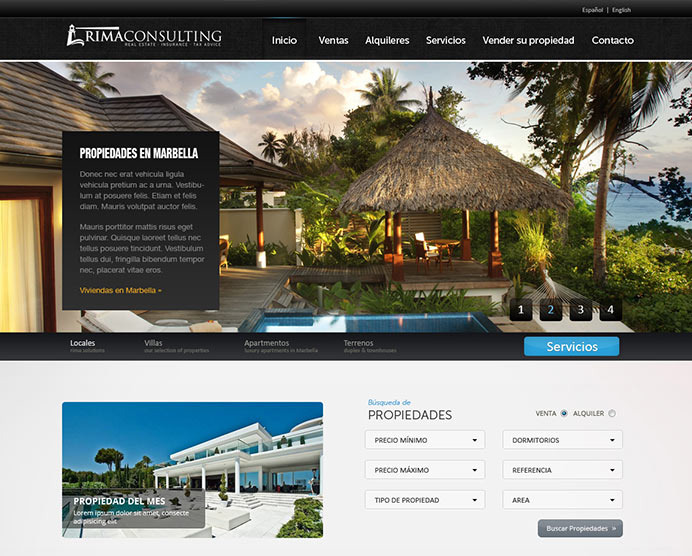 View slideshow portfolio

Design gallery in 3D