Night Photography
Night real estate photography projects require taking good care of the lights of the building, exterior lights as well as the time when the picture is taken.
Night photography at La Zagaleta
Night photography projects require taking good care of the building interior and exterior lights, as well as the time in which the picture is taken. To obtain good results in night photographycammera settings have to be to precisely adjusted, this requires lots of preparation and knowleage.
This picture was taken in La Zagaleta, one of the most exclusive and secure urbanizations in Marbella, Costa del Sol.
The photo was published in Home & Lifestyle magazine.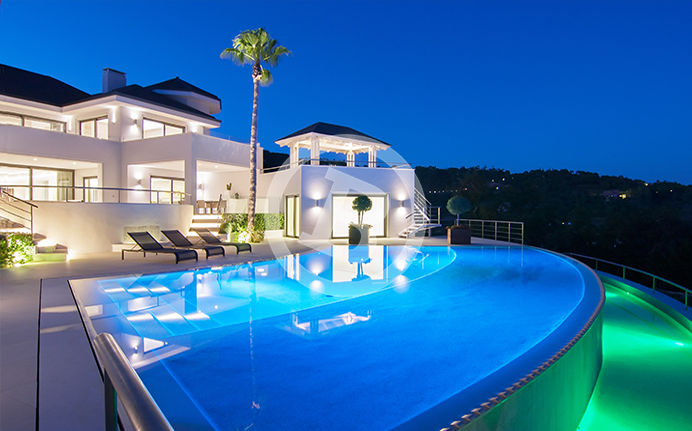 Night photography Guadalmina baja
The use of the tripod is essential when making real-time night photography. It is also important that the exposure times are not too long outdoors, since it could happen that elements such as clouds or lights appear moved and distorted.
The photo was taken of an exclusive villa next to the sea in Marbella, in which all three light sources - exterior, ambience and interior lights are appreciated.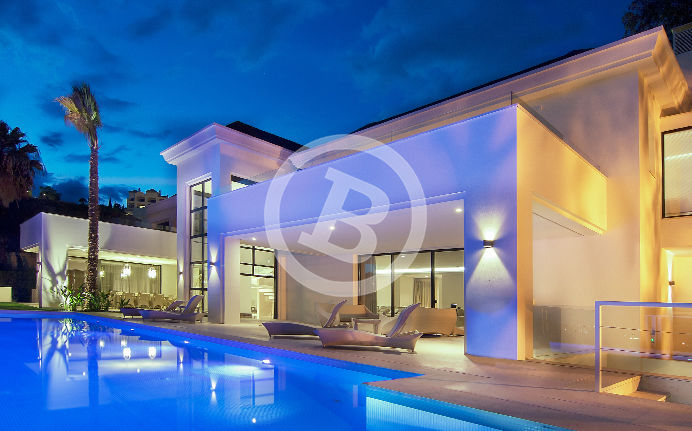 Interior jacuzzi night photography
When light resources are scarce, it is essential to know the domains and variables with which we can manage the camera, aperture, speed, ISO, etc. to be able to get interior photos at nighttime in which the total room has to be visible.
This photograph was taken in a spa of a luxury villa, with diffuse and changing colors and tones.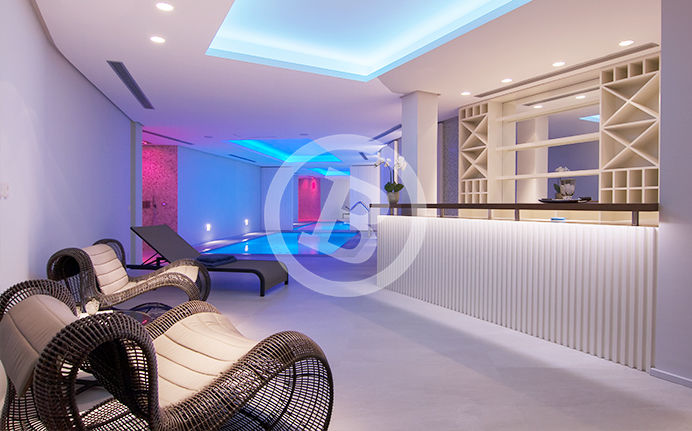 Night photography - Temperature control
The color temperature is another important key element to highlight in night photography. Generally, the photos taken at night without flash, tend to come out with yellow and orange tones and this is because when increasing exposure time these lights go from white to yellow.
In this photograph, we can appreciate the white light that one would appreciate with a natural night eye sight of this villa in Marbella. When the lights are yellow, it is because the color temperature is not optimum.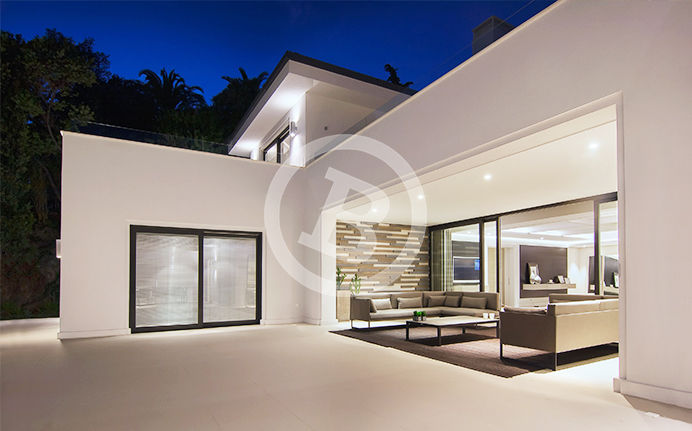 Night real estate photography - contrasts
In this nocturnal real estate photo we wanted to highlight the warm wood tones on the ceilings as well as distribution and lighting of the interior rooms. The effect is amazing and contrasts with the deep darkness of the night.
The photograph has been taken using a heavy duty tripod, reflecting the exact tones of light and controlling its temperature so colors would appear natural.