Real estate property management software
Working with real estate companies in Marbella, Costa del Sol, also Mallorca and other parts of Spain we have developed a Wordpress based SEO friendly Real Estate Software to manage properties and generate real estate listings with our exclusive design, now with Resales Online Ajax API, Milenio Plus and Infocasa XML import integration.
Permanent license per site, open source, no recurring

fees

Unlike many third party real estate software providers we don't charge monthly fees for using our real estate engine. Once the website is built and published online we provide a serial number that permanently activates our Real Estate Software for the domain.

Generally, the amount of money spent on a real estate software during a year is enough to build a new SEO friendly website based on our real estate engine that will have no further recurring costs.
Integration with Resales Online and Infocasa property networks
Resales Online and Infocasa are two largest property networks here in Andalucia, Spain who offer property sharing network with other real estate agencies. We have developed a Wordpress plugin for both of these systems performing automatic Milenio Plus and Infocasa XML property imports as well as Resales Online AJAX API. Both systems work very fast on our dedicated servers.
Apart of imported listings our Real Estate Software allows having your exclusive property section for properties not shared with other agents. Such properties stay available if property network is no longer needed.
Exclusive reale estate listings and

website design

To cut design and development costs many property software providers and real estate web designers in general use prebuilt templates to make sites for their clients, however in many cases such websites are charged as if design would be unique.

Our real estate package comes with exclusive and fully customized design for each site we build as we care about business image and overall professional website quality. Design includes home page, real estate listings, property details, featured properties slideshow, contact forms and all other website sections.
Powerful and easy to use
Designed to handle large real estate websites
Smooth Step Real Estate software is designed to be intuitive and user friendly, even users with little knowledge about computers will be able to add properties without difficulty. Once the website is designed and developed we provide explanations how to add properties, new areas and organize photos.
Our Real Estate software is developed to handle large websites with thousands of multilingual properties and a high amount of daily visitors.
We have implemented numerous optimizations including custom SQL queries, memory efficient PHP code and a caching engine.
Benchmarks on our dedicated servers show that a large real estate website with 2500 properties, 3 languages, complex search and high end "related properties" and other plugins generates pages in 0.5 second or less, even when there are many visitors browsing the site at the same time.
Real estate administration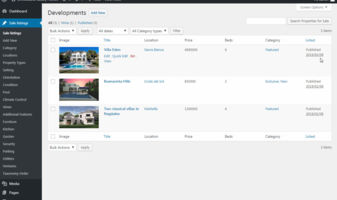 All properties are managed from a dedicated Wordpress section which displays real estate listings where each property can be searched by reference and edited.
Editing real estate listing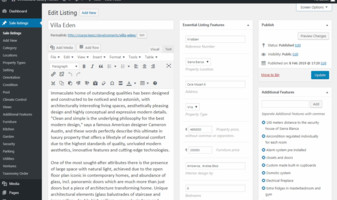 Property editor comes in 3 columns, first column is for main content, second one is for entering price, location and other fields and right column allows adding real estate features and publishing.
Photo management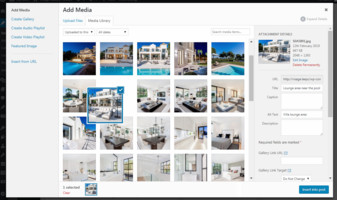 Property photos are managed visually - Wordpress provides capabilities to select and upload multiple photos from your computer, once uploaded they can be simply dragged to their position and the system takes care of the rest.
SEO friendly

property listings

Search engine marketing strategy is vital so that the real estate engine would succeed on search engine listings.

Since our real estate software is built from scratch by our developers we were able to provide property listings and individual property pages that are fully search engine friendly: Each property comes with unique non numeric SEO firendly URL address and fields to enter Meta title, description and keywords for optimization.
Real Estate SEO tools
We have also developed advanced SEO tools to generate search engine friendly real estate listing pages designed to optimize the website for each location, also location and property type combinations.
Apart of listings per area we have designed a section which allows writing unique content including SEO titles, as well as photo galleries for each area. These areas are automatically displayed on each property page.
Each real estate property can be equipped with automatic related properties panel providing more relevant property page links for search engines.
Innovation in real estate web design
Property search is one of the most important panels in any real estate website. We took the search to the next level overcoming many limitations that web browsers provide out of the box. After a lot of experimentation we have created a semitransparent search panel with beautiful non-standard dropdowns as well as logarithmic range selectors for numeric fields such as price and built size.
We have also designed many other real estate website addons including featured properties slideshow panel, automatic Google map displaying property area and related property search for each real estate object, as well as client registration and property shortlist for registered users.
XML Property importer for existing real estate sites
If you already have a real estate website and/or if you are working with real estate software provider that supports XML real estate feeds we can automatically import all your real estate properties to our system so you wouldn't have to add each property manually.
The importer is designed to automatically fill all the required multilingual property dropdowns, including area, type and others, import photos and generate automatic SEO titles. It can be customized to import any extra data according to your requirements.
If you wish to keep using your existing real estate software the import operation can be performed daily.
Quality

photo resizing

Our real estate property management software comes with server based photo resizer. You will be able to upload photos of any size and they will be resized to fit property listings design, galleries and the slideshow.

Property photo resizing is made in highest quality using bicubic and lanczos algorithms used by professional photographers.

In Smooth Step real estate software photo resizing is integrated to all services where photos are used. For example windowcard PDF generator needs photos of certain sizes, property listings and details of other sizes etc. Our web server resizes photos on the fly when they are needed. All you need is to upload quality pictures (at least 1200 pixels of width) and forget about the rest.
PDF Windowcards for

printing in high resolution

Smooth Step real estate software comes equipped with high quality PDF generator that takes property photos, description and features and adds them to PDF template with our design.

PDF window card service is optional, if you'll decide that you need it we will design a unique vector based template with custom Truetype fonts and your company logo. The windowcard will be generated automatically for each property that you are going to add.

Window card service appears as a button on property details page, anyone will be able to click on it and save the PDF document.
Test our property management software
Visit real estate website that we have recently developed - with over 10.000 properties in Marbella and other areas in Costa del Sol featuring our Resales Online Wordpress Plugin integration.
Real estate engine example with Resales Online Wordpres Plugin