Real estate web design
Powerful Wordpress based real estate manager designed to handle large websites.
User friendly real estate manager
Having attained experience designing many real estate websites for agencies in Costa del Sol and Mallorca Spain we have rolled out a second version of our Wordpress based Real Estate Manager which is licensed on permanent basis per site. Once the site is developed, we issue a serial number to permanently activate our real estate software for the domain.
Exclusive design
Our real estate website package comes with exclusive design for each site we build as we care about professional website quality and corporate company image. Website design includes front page with full screen slideshow and featured properties, real estate listings, property details, contact forms and all other sections.
Real Estate SEO tools
SmoothStep Real estate software is equipped with search engine marketing tools that generate SEO friendly real estate listing pages designed to optimize the website for each location as well as location and property type combinations. All individual property pages feature with non-numeric URL addresses and meta tags for optimum listing on search engine listings.
Integration with Resales Online and Infocasa real estate networks
Resales Online and Infocasa are two largest real estate networks in Costa del Sol, Spain for property sharing among real estate agencies. We have developed Wordpres plugin integration for both of these systems via Resales Online AJAX API, Milenio Plus XML and Infocasa XML property import. On our dedicated UK based servers both systems work very fast.
Third party real estate database integration is non-essential, website is designed to feature exclusive property section which stays functional after real estate network is disconnected.
Real time

photo resizing

SmoothStep Real Estate Manager is equipped with quality server based real time photo resizer. You will be able to upload photos of any size and they will be automatically resized to fit property listings design, galleries and featured properties panel.

Photo resizing is integrated to all website services where real estate photos are used. PDF window card generator needs photos of certain sizes, property listings and details of other sizes according to web design - Our web server resizes photos on the fly when they are needed. Website administrator simply needs to upload quality pictures (at least 1200 pixels of width) and the rest is handled automatically.
Internal real estate listings with search
Smooth Step Real Estate section is equipped with property listings that can be searched by reference, area and other fields as well as services to add new property types, areas and all other dropdown fields.
All dropdowns and other fields can be customized according to client requirements.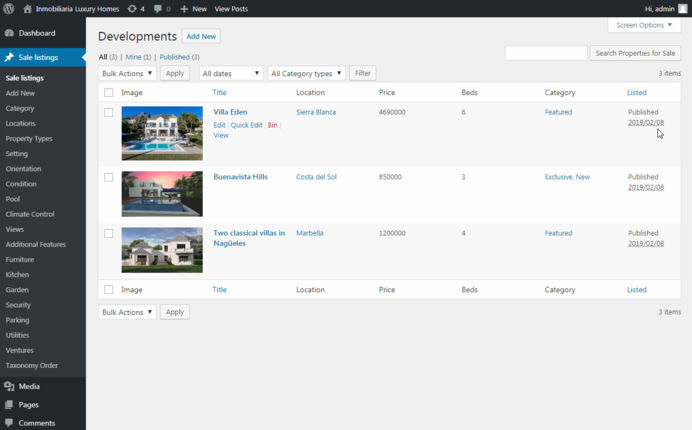 Real estate property editor is designed in convenient 3 columns:
Main column is for editing property description and SEO titles.
Middle column contains all property fields which can be changed by typing in numeric values and choosing others from their dropdowns.
Right column handles property publishing, scheduling and adding real estate features.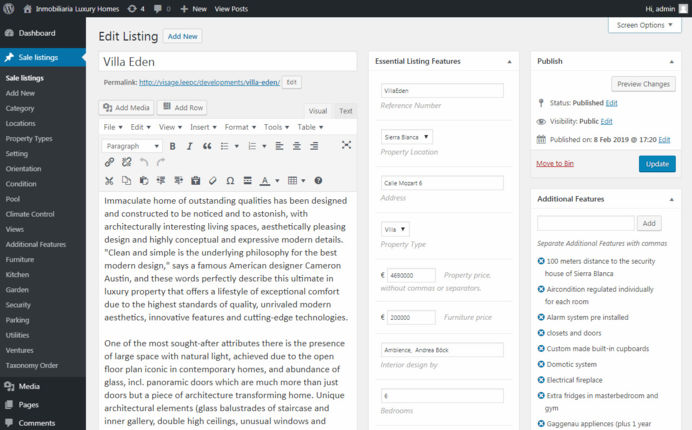 Real estate photo management
Photos are managed visually, system allows selecting and uploading multiple photos in one go.
Once uploaded property photos can be arranged by simply dragging them to required position and our real estate manager takes care of the rest.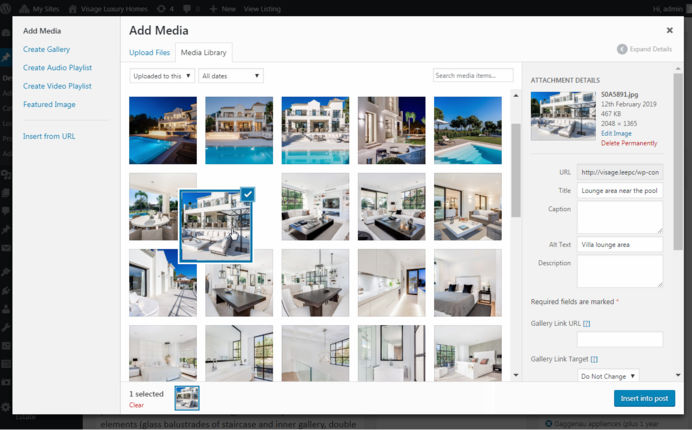 More on our real estate website manager in product section
For more information on Smooth Step real estate manager please visit its dedicated page in our product section