Business cards
Business card is an official presentation that reflects your corporate identity. It can be casual, trendy, formal or informal, depending on the person or company they identify. Depending on services offered and branding strategies company should choose the business card style wisely.
Business card design
Most formal cards are arranged to preserve the balance and dignity and the informal ones will retain good design and typographic attributes and a less rigid arrangement.
Company name and logo are a must together with the name and title description of the holder. Business cards should be easy to use and provide only required information – Too many lines of text tend to confuse the client, they also make the design look less appealing.
Quality printing
Printing and paper quality is as important as the design itself, especially when we decide to use non white background. Even if printed with high quality printer at 600dpi individual dots are clearly visible. For this reason we usually print our business cards using photolithograph printing from high quality vector graphics, this gives purely solid colours. This kind of printing works very well with matte plasticized paper.
Our business card designs
Below you will find several business card examples made for clients in Marbella, Malaga:
View slideshow portfolio

Design gallery in 3D
We have access to very expensive industrial fiber laser capable of high resolution engraving on alluminum and stainless steel.
After trying different laser intensity, speed and pulse width settings we were able to print eurorack panels over anodized alluminum as well as 3 types of business cards designed to promote our web design and development services in Marbella.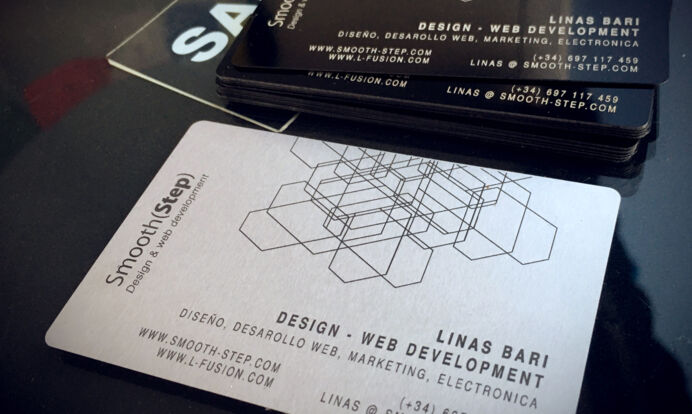 These elegant bussiness cards have been designed for an investment company based in Marbella. Cards features silver stamping on one side and quality printing on the other side.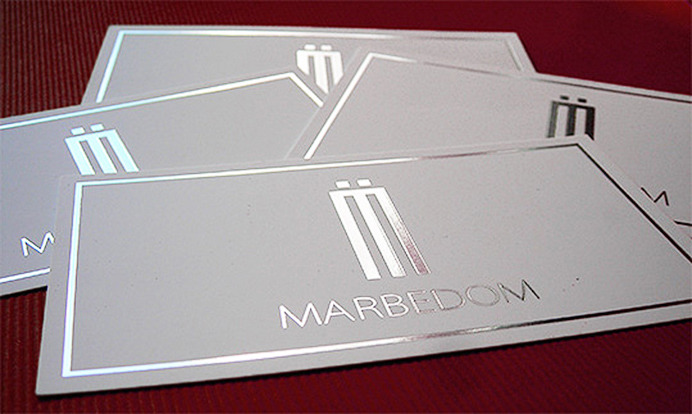 This business card was designed with a different non standard approach transmitting fresh and modern style. Therefore we chose a square shape with rounded corners, electric blue color and vector graphic design. We are a graphic and web design agency based in Marbella.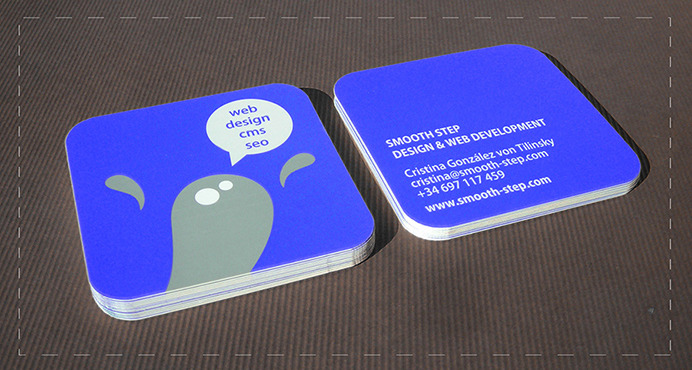 View slideshow portfolio

Design gallery in 3D