BlueView Real Estate Website Design
This elegant real estate website has been designed and developed by Smooth Step Team based on Wordpress content manager and our new SEO friendly Real Estate Management Software.
Home page design
Website home page is designed having usability and elegance in mind. It is equipped with a full screen slideshow that adjusts to different screen sizes, search feature with price range selector, high quality TrueType fonts, image links that lead to new development and bank repossession property section, also a featured property slideshow to highlight their best properties.
Property search panel
On client request we have designed and developed a horizontal version of the real estate search panel on property listings pages so when searching for properties the search parameters can be quickly readjusted without the need of using browser back button. This improves website usability as the search feature can be accessed directly from the home page also fewer steps are needed to perform multiple property searches.
Real estate management system
The property management system is also built using latest technologies. When adding or editing a property its features can be easily selected from the ones used on other properties while at the same time allowing to enter a new feature if it is required
Property description is entered using latest rich text editor allowing proper text formatting, as well as creating links to other pages for SEO purposes. Below the description there are fields to enter property price, also construction, plot and terrace sizes.
When browsing the site while logged in to the administration software the system provides a quick access to property editing, a very useful feature for fixing minor listing errors or rearranging the photos.
Property photo management
The real estate administration software allows uploading a whole photo folder that can be simply dragged to the upload area and each photo will be uploaded in bulk. Property photos can be uploaded in any size, the software will resize them automatically to be used on the website. Once uploaded the photos can be rearranged visually by dragging the photo thumbnail to the required position.
Property details page comes with a cutting edge slideshow which is activated by clicking on one of the small photos. The slideshow allows viewing each photo in full screen. It is designed to adjust itself depending on screen size so the photos wouldn't appear too large on smaller tablet and mobile screens.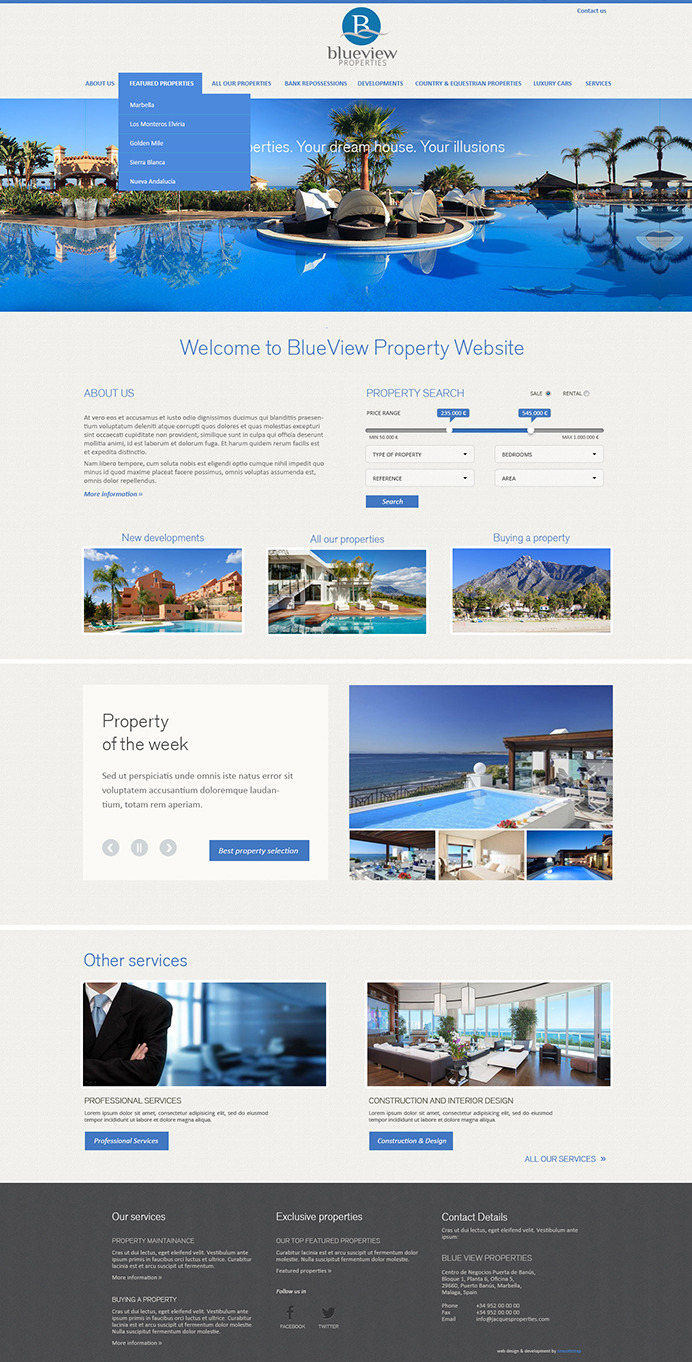 Website: www.blueviewproperty.com
Post a comment
Here you can share your thoughts with us by posting a question/comment. Your e-mail will not be shown to protect your privacy. Required fields are marked with *
Check other Smooth Step articles related to real estate, web design Marbella and design.
Rima Consulting
We have developed a corporate website for Rima Consulting real estate agency with offices in Marbella.