High-end real estate website design with Resales Online integration
Quality SEO friendly real estate website designed and developed for Sbai Properties with over 20 thousand properties in Costa del Sol. Website is powered by our latest Wordpress based Real Estate Manager with lightning fast Resales Online integration.
Website design and development features
Exclusive website and logo design
Sbai Properties website features our exclusive website and company logo design. Web design consists of interactive home page with multi column layout, semitransparent search panel over website header photo, modern property listings and individual property pages, multi column content layout and contact forms on website footer and contact page.
SmoothStep Real Estate Manager with Resales Online integration
We were requested to develop a real estate website with search engine friendly Resales Online Costa del Sol property database integration as well as exclusive property section managed locally by our real estate manager, both integrated into a unified search system. This was achieved by improving our Real Estate Manager adding services to communicate with Resales Online server to fetch their property data via XML. With our optimized PHP 7 code and proprietary caching engine the integration works lightning fast.
SEO friendly website development
All Resales Online and exclusive properties on the site are optimized for search engines. Our Wordpress based Real Estate manager also generates SEO friendly pages with automated titles for each property area and area/property type combinations generating thousands of pages, which are indexed by Google and other search engines.
Website features and innovation
Sbai Properties website header consists of a full screen photo slideshow with overlapped two level navigation menu and semitransparent property search with custom dropdowns and touchscreen friendly logarithmic price selector.
Website provides elegant property listings with dropdowns to sort by their price and date, individual property pages with content and features in various columns as well as automated Google Maps integration showing relevant area, as well as content pages with content that can be arranged visually into multiple columns using Wordpress administrator.
Home page is developed to present most important company services as well as latest featured and exclusive properties in 3 columns.
Mobile and retina support
All website services have mobile and tablet support with high-resolution photo delivery for retina displays.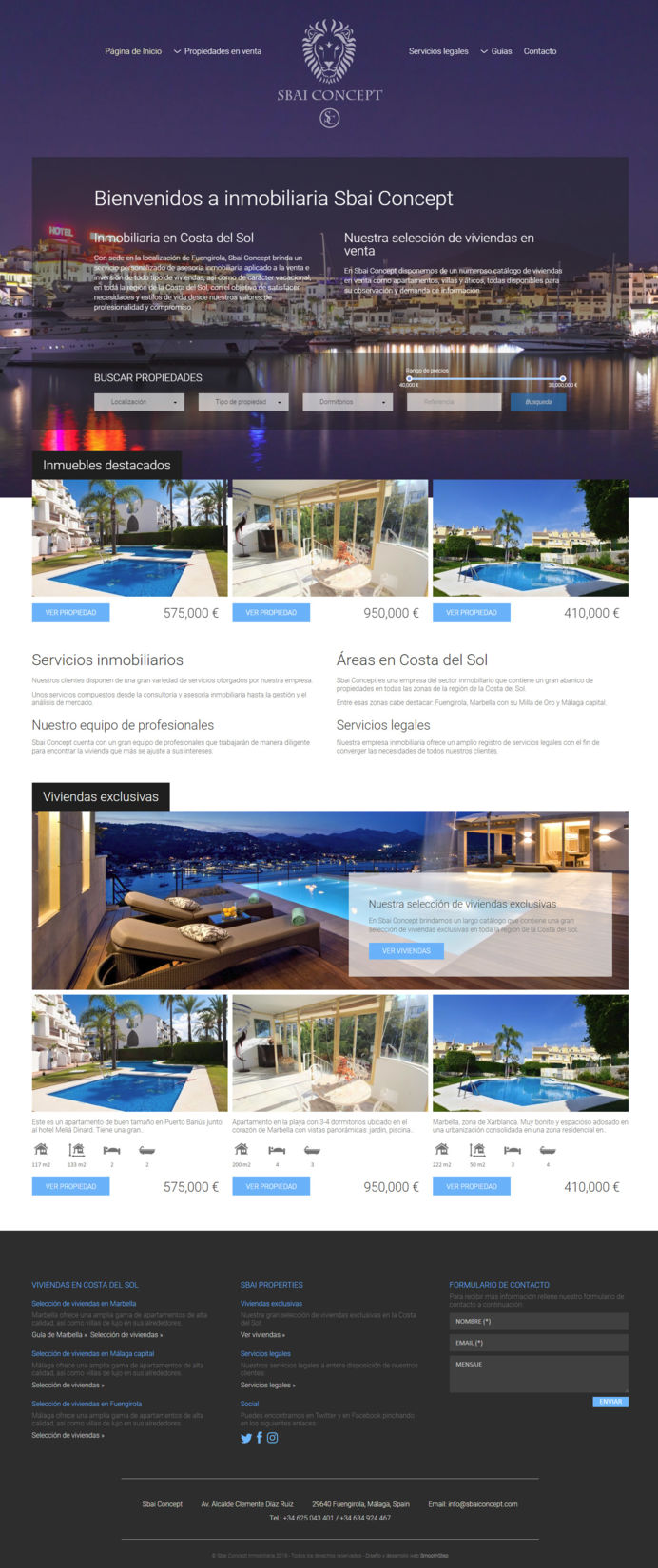 Website: www.sbaiconcept.com
Post a comment
Here you can share your thoughts with us by posting a question/comment. Your e-mail will not be shown to protect your privacy. Required fields are marked with *
Check other Smooth Step articles related to real estate, design and costa del sol.
Economic
These templates come with website managers configured to handle real estate listings, client accounts e-commerce products, and other types of online business services.